2022 was a testing year for many first time buyers looking to purchase a home in Ireland.
Property prices were already at an all time high as a result of the high energy prices, Ukraine war and rising inflation and interest rates. However, there is some positive news. Q4 in 2022 saw asking price reductions which demonstrates a resilience in the market. Continue reading our property prices Ireland blog to find out where property prices dropped.
Property Prices Ireland 2022
Data from the Myhome.ie found the average asking price for a three-bed semi detached house between October and December 2022 was €330,000 – up 6% on the same date last year. The report findings also stated that median asking prices fell in all the commuter belt counties in the final quarter of 2022.  The average asking price for new listings is €330,000, while the price in Dublin is €436,000 and €283,000 for outside of Dublin, nationwide.
Continue reading to see the average asking property prices by county and other price drops.
Average Property Prices by County
Medium asking prices for new listings in 2022 were as follows:


The mix-adjusted asking price for new listings for sale outside Dublin fell by just 0.2% in Q4 2022.
Median asking prices fell in all the commuter belt counties in the final quarter – by 1.8% in Kildare to €280,000, by 1.5% in Meath to €285,000 and by 1% in Wicklow to €385,000 with annual inflation rates of 5.7%, 3.6% and 5.5% respectively. The median asking price in Kilkenny was €240,000, down 2% on the quarter.
Asking prices in Munster were very subdued in Q4. The median price was flat in Clare (€250,000), Cork (€275,000), Limerick (€230,000) and Tipperary (€195,000). However, asking prices fell by 2.1% in Kerry to €230,000 and in Waterford by 3.4% to €198,000.
Prices in Cork city fell 0.4% to €279,000. The median asking price was also flat in both Limerick city at €225,000 and in Waterford city at €179,000. In Galway city, prices fell slightly by 1.7% to €290,000.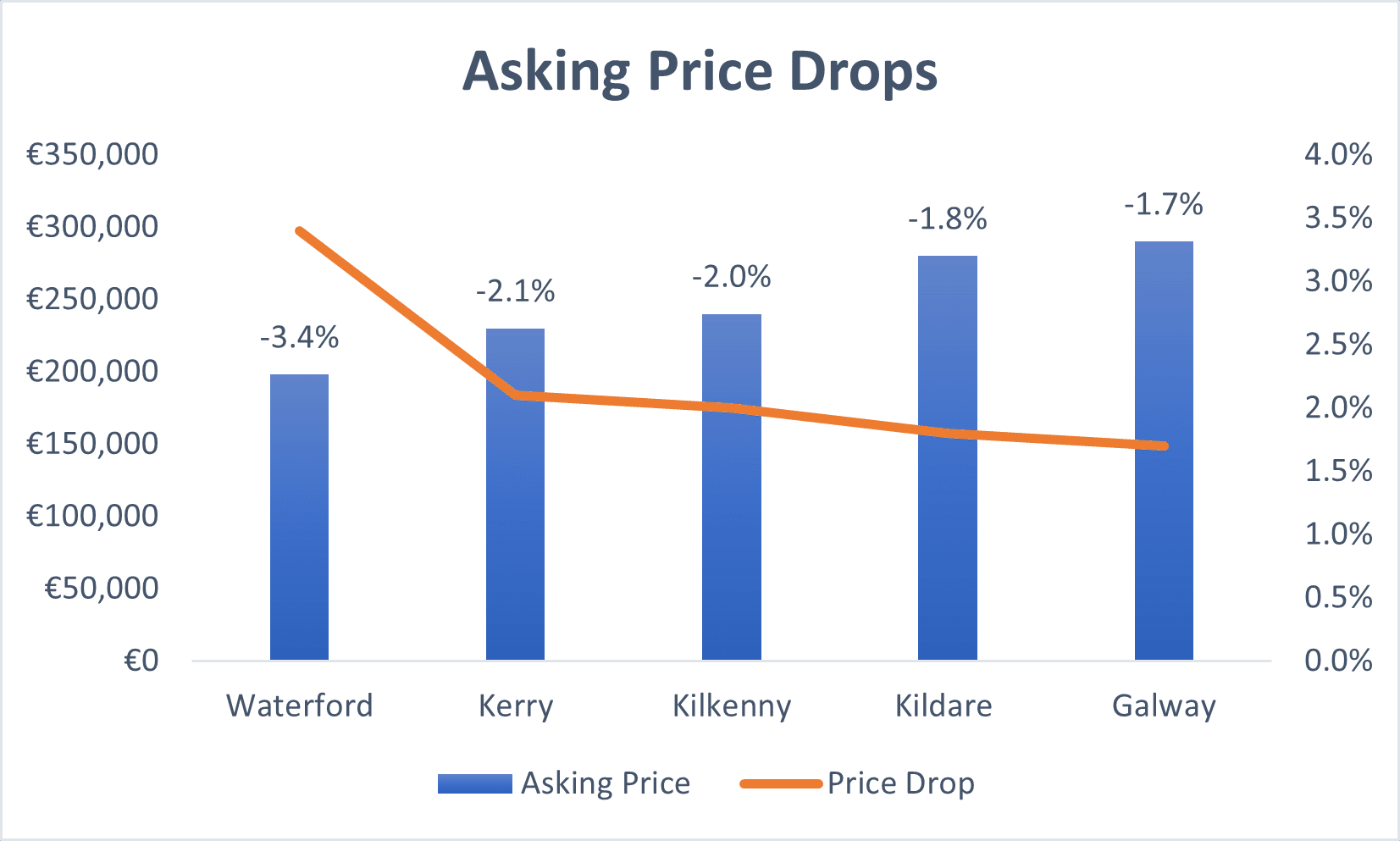 Two Bedroom Apartments
The average price of two-bedroom apartments in Dublin was €270,000, down 1.8% on the year. In Limerick, prices were up 6% to €167,500. In Cork, two-bedroom apartment prices were up by 5% on the year to €205,000 and by 8% in Galway to €233,000.
Four Bedroom Semi Detached
The average asking price for four-bedroom, semi-detached houses fell by 1% in Dublin to €520,000, albeit still up 5.6% on the year. In Wicklow, prices were flat on the year at €482,500. In Cork, the average price fell by 2.6% to €340,000 but was still up 10% on the year. Galway prices rose up 2.5% on the quarter and 6% on the year. Limerick asking prices fell by 1.2% to €278,000.
Price Predictions
So, what is going to be the cheapest county to buy property in 2023? Only time will tell. Prices certainly aren't going to drop drastically.
Surprisingly, County Kerry is predicted to have the largest drop in house prices in 2023 according to Real Estate Alliance (REA). They are predicting a 5% drop in house prices in Kerry. Clare is also expected to be the only other county to see a sharp drop in prices.
Location, Location, Location
Mortgage123 did an Instagram poll 'Are you willing to compromise on location for a cheaper price?' Out of the 295 responses 60% said they would not compromise on their preferred location for a cheaper house price. Only 40% said they would consider moving outside of their preferred location for a cheap house price. Location really is key it seems.
Location is especially important when you do not have the flexibility to work remotely. However, if you do have the option to work wherever you please in Ireland then perhaps consider some of the 'underdog' counties such as Mayo and Clare or all the commuter belt counties. All of which are having big asking price drops currently.
Start Your Mortgage Journey Today
Apply online today for a mortgage or contact us on (061) 599990 if you are thinking of stating your journey.